Why Robots, Why Now?
Finding a product in a store is challenging. Some people can't find keys in their own house. This happens all the time. Shoppers go to stores that know what they want, but they don't know where to find it. Using the Retail Robot can help you avoid a bad customer experience.
Employees are interrupted a lot while working on their tasks
Store owners hire employees to add value to their business. But aren't they able to do that when all their time is consumed showing customers where to find products? You probably know the answer!
Robots Are The Beacon Of Light
Our shopping robots are integrated with product databases meaning they know where every product is all the time. It even has product descriptions and images. It takes customers to where the product is in no time. Your customers will have a better experience.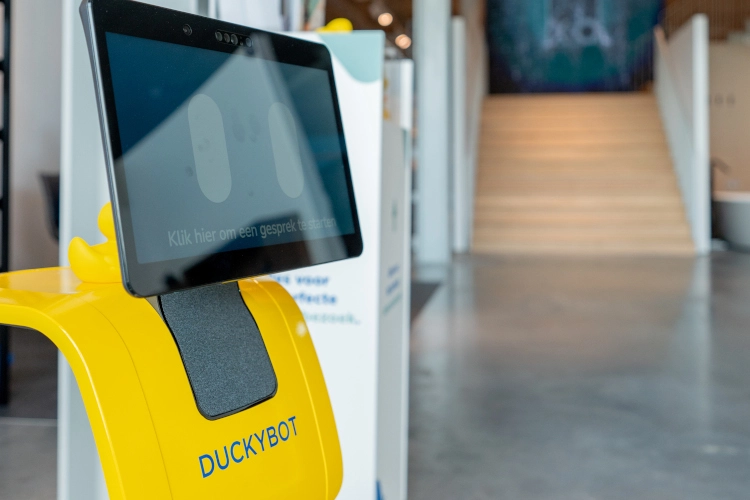 Why WELBO?
Since our inception in 2017, we've enabled countless organizations with the power of robotics. Our ISO 27001 certification ensures that customer data is safe and secure all the time. We're also a Certified Development Partner of Robotemi.
We've helped them streamline time-consuming processes to achieve operational efficiency. Our shopping robots can help you improve customer experience, reduce costs, and earn more, all within the blink of an eye. Some of our notable customers include Lagardere Travel Retail and KPN Stores.



How We Do What We Do?
We work based on a three-stage process that helps your organization achieve the unthinkable. In our planning phase, we ensure strategic alignment between our robotics and your objectives. Then we integrate its IT system with your product databases and the shopping floors so it can be of assistance. Afterward, we strive for continuous improvement based on data-driven insights and your valuable feedback.
Hire The Shopping Assistant Now
Want to provide your customer with a streamlined shopping experience? Fill out the form and get ready to meet your new shopping assistant.
Let's meet.