Why Robots, Why Now?
Recent statistics have shown that there are more vacancies than workers in the Netherlands, and this phenomenon certainly holds true in the hospitality industry. An industry that was once known for providing jobs now suffers from the lack of talented, skilled, and available workers.
122
number of vacancies per 100 unemployed workers
Retain Your Hospitality Workforce: Make Them Never Want to Leave
We all know that hotels and restaurants were among those who were hit hardest by the pandemic as the world was forced to be indoors. Many professionals changed industries and hotels and restaurants now lack trained staff. Factors like exhausting working hours and high onboarding costs make the situation even more challenging.
Robots Are The New Face Of Hospitality
Leveraging robotics can help you support your existing workforce and improve operational efficiency. Our restaurant robots integrate with your existing staff and can be trained within minutes. These robots run around the restaurant delivering food and beverages. They can carry up to 30 kgs, they work overtime, they're pleasant, and they'll never deliver an order at the wrong table.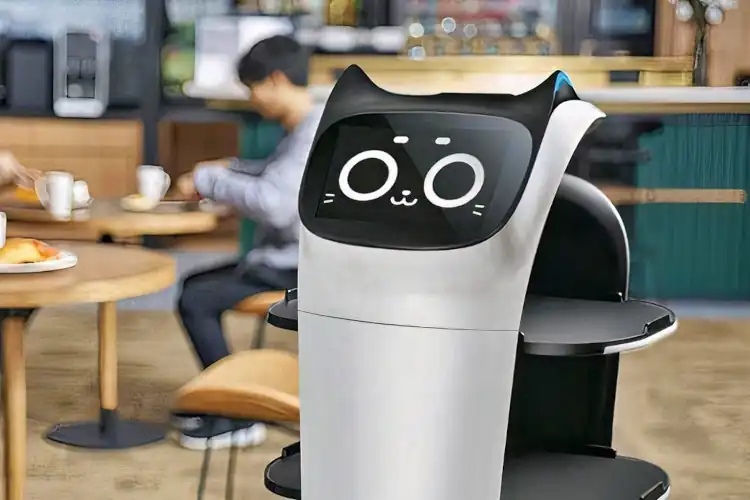 Why WELBO?
We've enabled multiple hospitality professionals with robotics allowing them to improve both operations efficiency and customer experience. Our ISO 27001 certification ensures that customer data is safe and secure all the time.
We're also a Certified Development Partner of Softbank Robotics and Robotemi. Over the years, we've gained valuable insights into customer preferences and delivered optimal robotic solutions to restaurants like yours. Take a look at what our customers have to say.

The employees really enjoy working with the robot, working on this innovation because not all companies have this innovation. People have to walk up and down less often, and we really see him as a part of the team.
- Michiel van Wolferen, Operational Director, Hajé
How We Do What We Do?
We work based on a three-stage process that helps your organization achieve the unthinkable. In our planning phase, we ensure strategic alignment between our robotics and your objectives. Then we install the robotics as you desire. Afterward, we strive for continuous improvement based on customer journey mapping to allow the robots to better understand customer touchpoints and tailor their services accordingly.
Your New Workforce Is Waiting
Want the same level of quality and speed you had pre-Covid but with a smaller workforce? Fill out the form below and meet your new team now.
Let's meet.