Why Robots, Why Now?
The great resignation is here, and 1 in 5 employees in The Netherlands quit their job last year. Your receptionist could be next. Now is the time to leverage technology for your growth and benefit. Use our robot receptionist now, and stay ahead of the curve. Your front desk will never be empty again!
Hiring and Keeping Qualified Employees Is A Struggle
Although overlooked by many, a receptionist has a very important role to play. Taking phone calls, scheduling appointments, and setting up meetings is quite hectic. Finding an employee that does all of this is not only challenging but all these tasks are an ineffective use of their skills. However, you can use the reception robot to automate these operations. This streamlines redundant activities and helps employees make better use of their skills.
Leverage Robotic Assistance
At WELBO, we empower organizations with innovative robotic solutions helping them overcome such economic factors. Our reception robot collaborates with your employees and helps achieve organizational success. Our robots will:
Integrate into your workforce and provide much needed support to employees.
Always be in a good mood and never call in sick.
Improve customer experience by providing customized services.
Will work around the clock each day and won't even ask for a pay raise.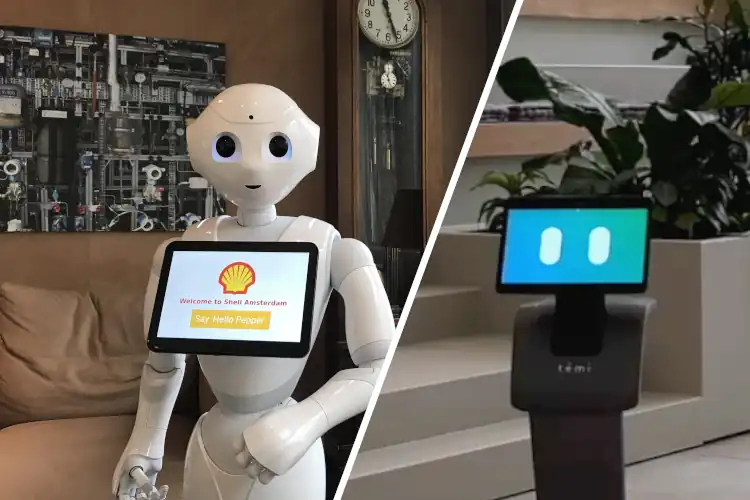 Why WELBO?
Since our inception in 2017, we've had the pleasure of working with industry-leading corporations, including Rabobank, Shell, and Unilever. Working with them, we've gained valuable insights into organizational requirements and customer preferences.
Our ISO 27001 certification ensures the safety and security of customer data. We're also a Certified Development Partner of Softbank Robotics and Robotemi. We use our data-driven arsenal to create customized solutions for you! See what our customers have to say.



In its own way, the robots have a human touch,
and that is what I find interesting.
- Peter de Bock, Facility Manager, Eurest Service for Unilever
How We Do What We Do?
We work based on a three-stage process that helps your organization achieve the unthinkable. In our planning phase, we ensure strategic alignment between our robotic solutions and your objectives. Based on our experiences give valuable advice and think outside the box to meet your needs. Then we install the robots as you desire and train your staff to ensure seamless collaboration. Afterward, we strive for continuous improvement based on data-driven insights and your valuable feedback.
Hire Your New Receptionist Now
We're eager about sharing our love for robotics with you. Fill out the form below and be amazed when you meet our robots in person.
Let's meet.