Why Robots, Why Now?
By 2030, 41% of the Dutch population will be 65 or older, and a shortage of 132,000 healthcare workers is expected. The healthcare sector, in light of these statistics, is one that certainly needs to leverage technology. Our care bots help achieve operational efficiency as your professionals add the everlasting human touch.
Is Everyone Being Cared For?
Demographics shift in recent times means we'll soon see more elderly people in care facilities, yet not enough professionals to care for them. Currently, there is a shortage of nurses in care facilities leading to a poor experience and decline in care quality. Without a solution, this problem will continue to get worse.
132.000
staff shortage in care by 2032
The Elderly Need Our Care!
These statistics are why we built the Care bot. Care bot can help your nursing staff with administrative tasks like checking alarms, setting up phone calls, managing clients, and more. But that's not all.
The Care bot is there to be with the elderly as well. It'll help them set up video calls to their loved ones, will chat about different things, and will even listen to music with them. It'll be the aid your nursing staff needs to achieve operational excellence and the perfect partner, our elderly are looking for!
Why WELBO?
We've been thriving with excellence in social robotics since 2017. Our ISO 27001 certification ensures the safety and security of customer data. We're also a Certified Development Partner of Softbank Robotics and Robotemi.
The healthcare organizations, including MIJZO and Humanitas, are already leveraging our robots.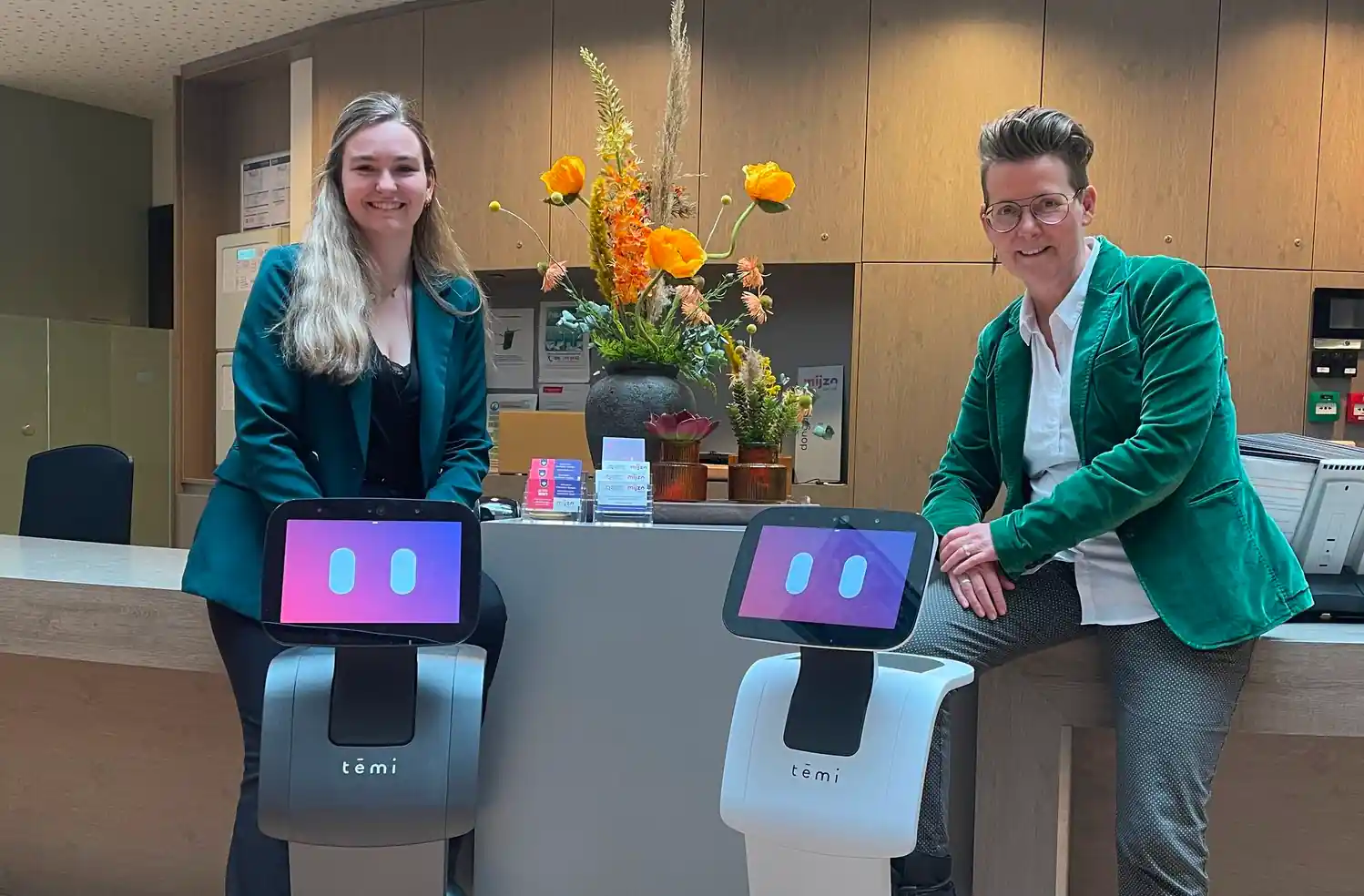 A robot like Temi can provide entertainment for clients, help in wayfinding and surveillance and provide remote care. All clients will have their own robot within the next decade.
- Carin Jansen, Strategic Advisor MIJZO
How We Do What We Do?
We work based on a three-stage process that helps your organization gain a competitive advantage. In our planning phase, we ensure strategic alignment between our robotics and your objectives. Then we install the robotics as you desire. Afterward, we strive for continuous improvement based on data-driven insights and your valuable feedback.
We ❤️ robotics, do you?
Fill out the form below and set up meetings with our robots, who can't wait to be a valuable part of your healthcare staff.
Let's meet.